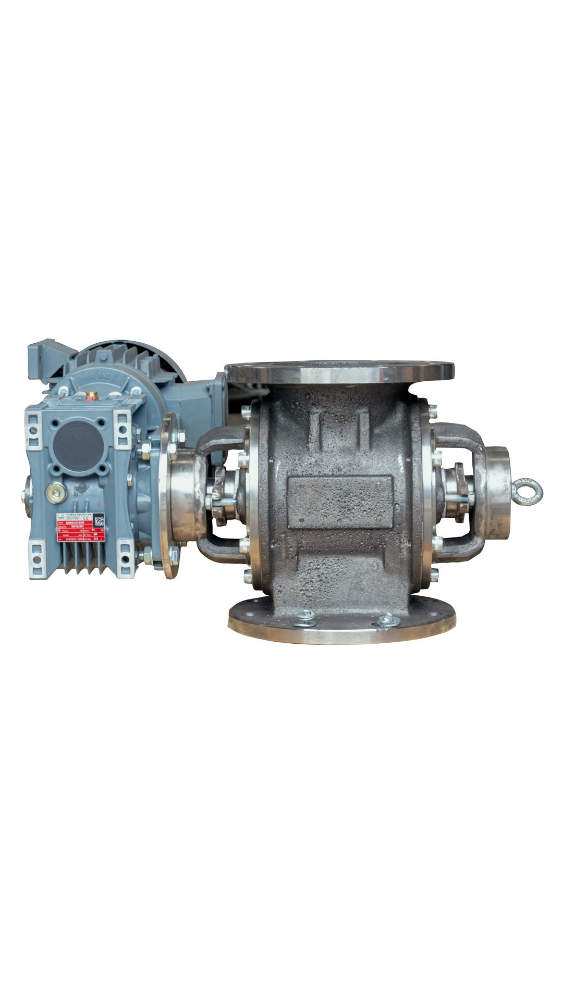 Rotary airlocks are important components of pneumatic conveying, bulk solids handling and batching systems.
Rotary airlock is also known as rotary valve, rotary feeder or airlock feeder.
The main function of a rotary valve is to control flow of bulk solids from silo, mixer, cyclone or hopper under gravity, pressure and vacuum conditions.
Airlocks can work on pressure and vacuum applications.
ROTARY VALVE DIMENSIONAL TABLE
MODEL
Q1
Q2
Q3
R1
R2
R3
KW
30 RPM
RV
890
558
332
217
523
523
2,2
30 RPM
RV
705
444
261
181
426
426
1,5
30 RPM
RV
605
390
215
162
426
426
30 RPM
RV
572
372
200
140
420
420
0,75
30 RPM
RV
505
342
163
130
420
420
ROTARY VALVE DIMENSIONAL TABLE
MODEL
Q1
Q2
Q3
R1
R2
R3
KW
20 RPM
RV
890
558
332
217
523
523
20 RPM
RV
705
444
261
181
426
426
20 RPM
RV
605
390
215
162
426
426
20 RPM
RV
572
372
200
140
420
420
20 RPM
RV
505
342
163
130
420
420
0,55
ROTARY VALVE DIMENSIONAL TABLE
MODEL
Q1
Q2
Q3
R1
R2
R3
KW
10 RPM
RV
890
558
332
217
523
530
10 RPM
RV
658
397
261
181
410
447
0,75
10 RPM
RV
585
370
215
162
410
399
0,55
10 RPM
RV
542
342
200
140
387
399
10 RPM
RV
475
342
163
130
387
335
0,37
More
You might be interested